For just $10 a year, membership at the Wangaratta Club entitles you to a wide range of benefits.
Discounts on meals and drinks
Special members offers
Rewards program, earn points which can be redeemed in the club for purchases over the bar

Our "Members  Cash Draw" every – Wednesday and Friday nights minimum $1000 drawn between 6.30-7.00pm, happy hour 6-7.30pm

Our new Spinning Wheel drawn from the Member's in Attendance. Minimum 3 draws every Wednesday and Friday night.
Free room hire for your next function
Free parking
Shop local and save – with exclusive members only benefits, and discounts from local businesses in Wangaratta just by showing your membership card.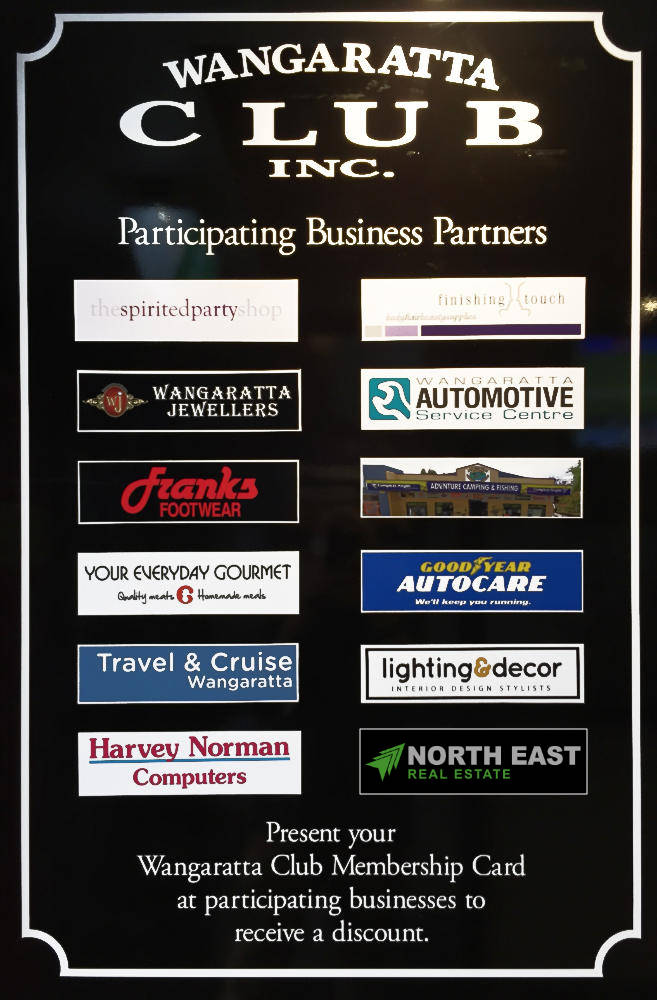 Shop and save participating businesses
Spirited Party Shop; Finishing Touch; Wangaratta Jewellers; Wangaratta Automotive Service Centre; Your Everyday Gourmet; Adventure Camping & Fishing; Travel & Cruise Wangaratta; Lighting & Decor; Harvey Norman Computers; North East Real Estate.
Join Now
Download and complete the membership form here: Wangaratta Club Membership Application Form
Email completed form to admin@wangarattaclub.com call in to the club pick up your membership card and to make payment.
Subscriptions due 30th June each year.
Club Rules
The Rules of the club were last amended at the 102nd Annual General Meeting held at the Wangaratta Club on Wednesday August 31st, 2011.
Click here to view a copy of the Wangaratta Club rules
Code of Conduct
Wangaratta Club patrons, members and staff are bound by Community Clubs Victoria Responsible Gambling Code of Conduct.
Click here to view the Code of Conduct.